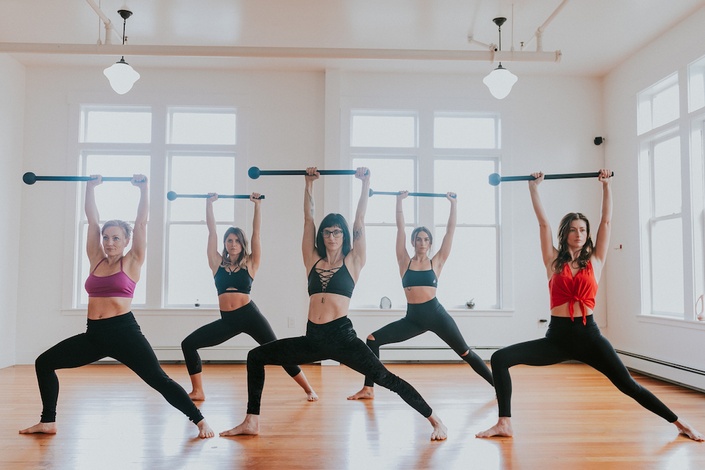 Steel Mace Vinyasa™ lvl 2- Fluidity
49 Videos // Maximizing Flow Potential
Are you curious how training Flow State can impact your movement practice?
Do you want to get strong AND mobile fast?!
Want lifetime access to 49 High Definition coaching videos that will take your training to the next level?
Are you ready to combine HIIT, Steel Mace & Yoga flows for the ultimate training experience?
Want to open up your hips and unlock massive power & stability?
Steel Mace Vinyasa™ - lvl 2 Fluidity is the course for YOU!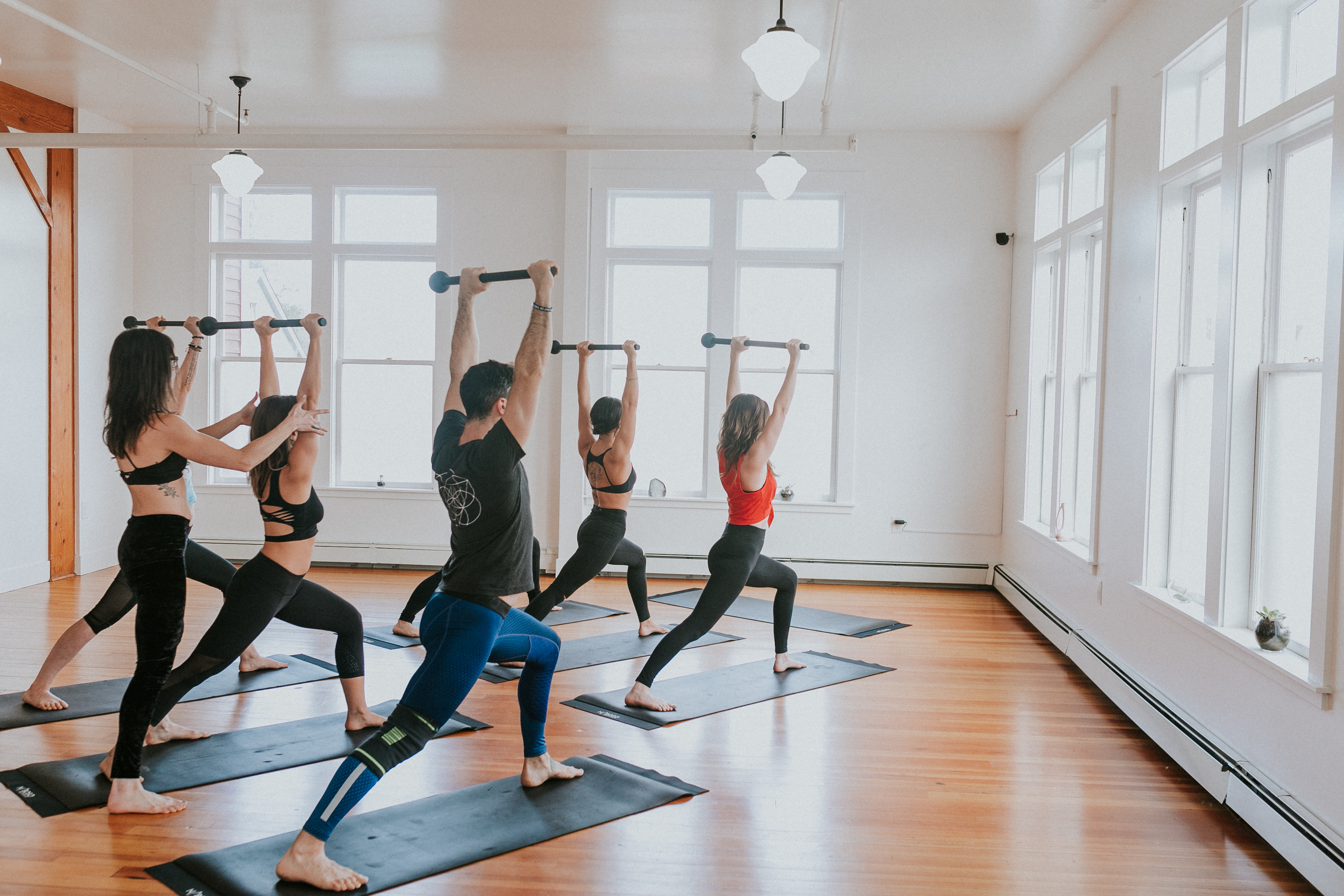 What You Get -
49 High Def /Multi Angle Video Tutorials
Expert Coaching breakdowns
6 Plug & Play Workouts & matching Steel Mace Flows
Live Videos for each Workout breaking down each section, workout, flow and asana.
Access to Private Facebook Community for Steel Mace Vinyasa
$100 off Steel Mace Vinyasa Seminar registration costs




Meet Coach Summer - she specializes in coaching movement & Flow

"With over 20,000 hours of movement coaching experience, I have seen similar compensatory patterns develop in the modern human. We tend to become chair shaped or cell phone shaped, with tight upper back & shoulders combined with chronically tight hips. The average person knows that they would benefit from yoga, but for various reasons it gets put on the back burner. People may find yoga boring, confusing with Sanskrit terms, and overall inaccessible due to mobility issues and old injuries. Steel Mace Vinyasa™ is a comprehensive program addressing strength, stability and grace - fit for absolutely any-BODY."
-Summer Huntington // Founder of Steel Mace Vinyasa™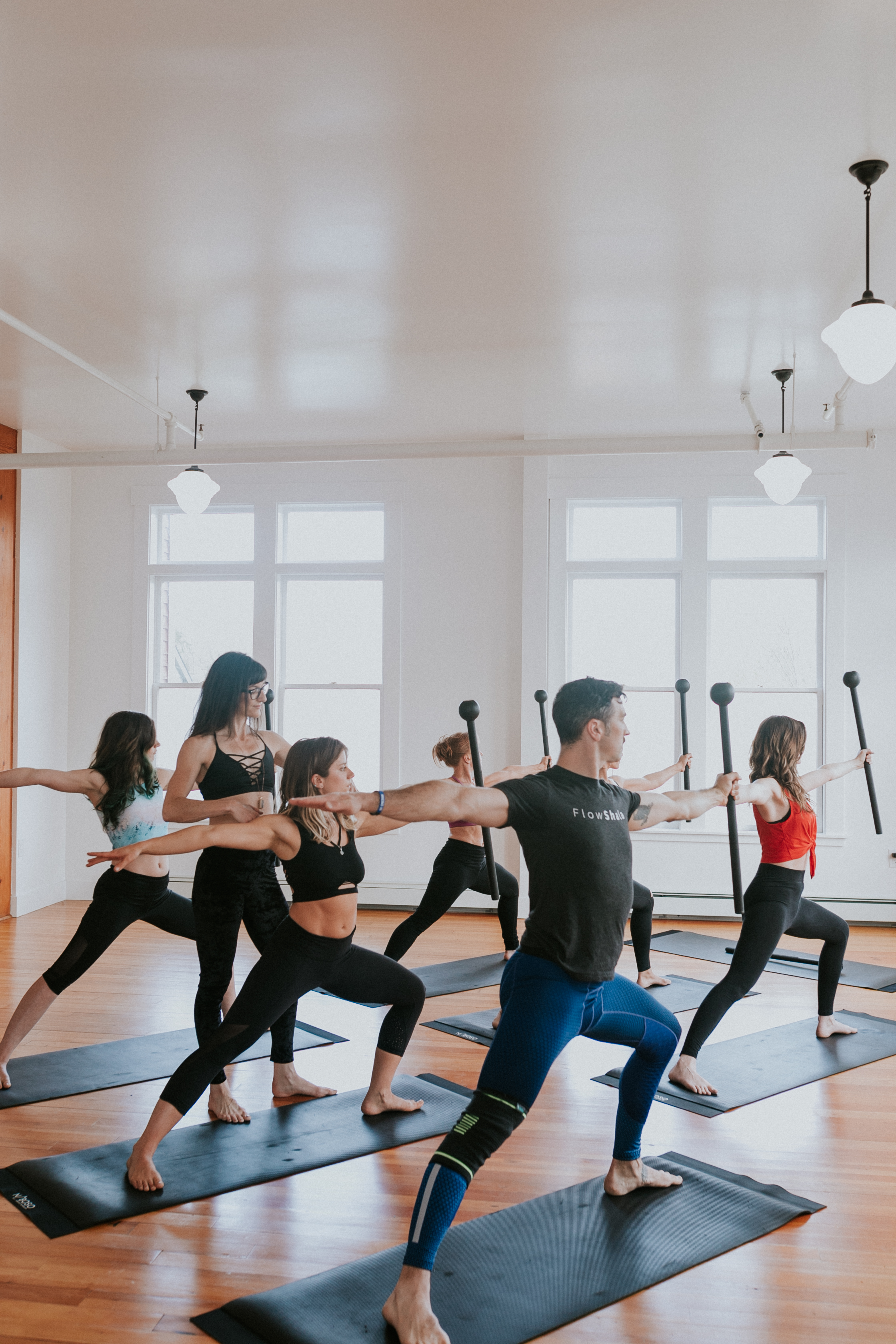 Steel Mace Vinyasa™ - Lvl 2 Fluidity is a high quality online training program that will take your movement practice to the next level, regardless of your experience with Steel Mace or with Yoga. This program integrates martial arts style movement, principles of torque development, stability and complexity in training movement patterns. What you need to tap into Flow State is for your challenge to be just slightly above your current capability, so that you GROW.
We teach you maximum proprioception, core activation, swing techniques, powerful transitions and so much more. If you are bored in the gym, and looking for something different, Steel Mace Vinyasa is for you. Every workout is curated to elicit a Flow response, as it challenges your spatial awareness and proprioception, while conditioning your body & mind. Zero experience needed to be successful with this program, all you need is a belief that you CAN try something new, and build a practice.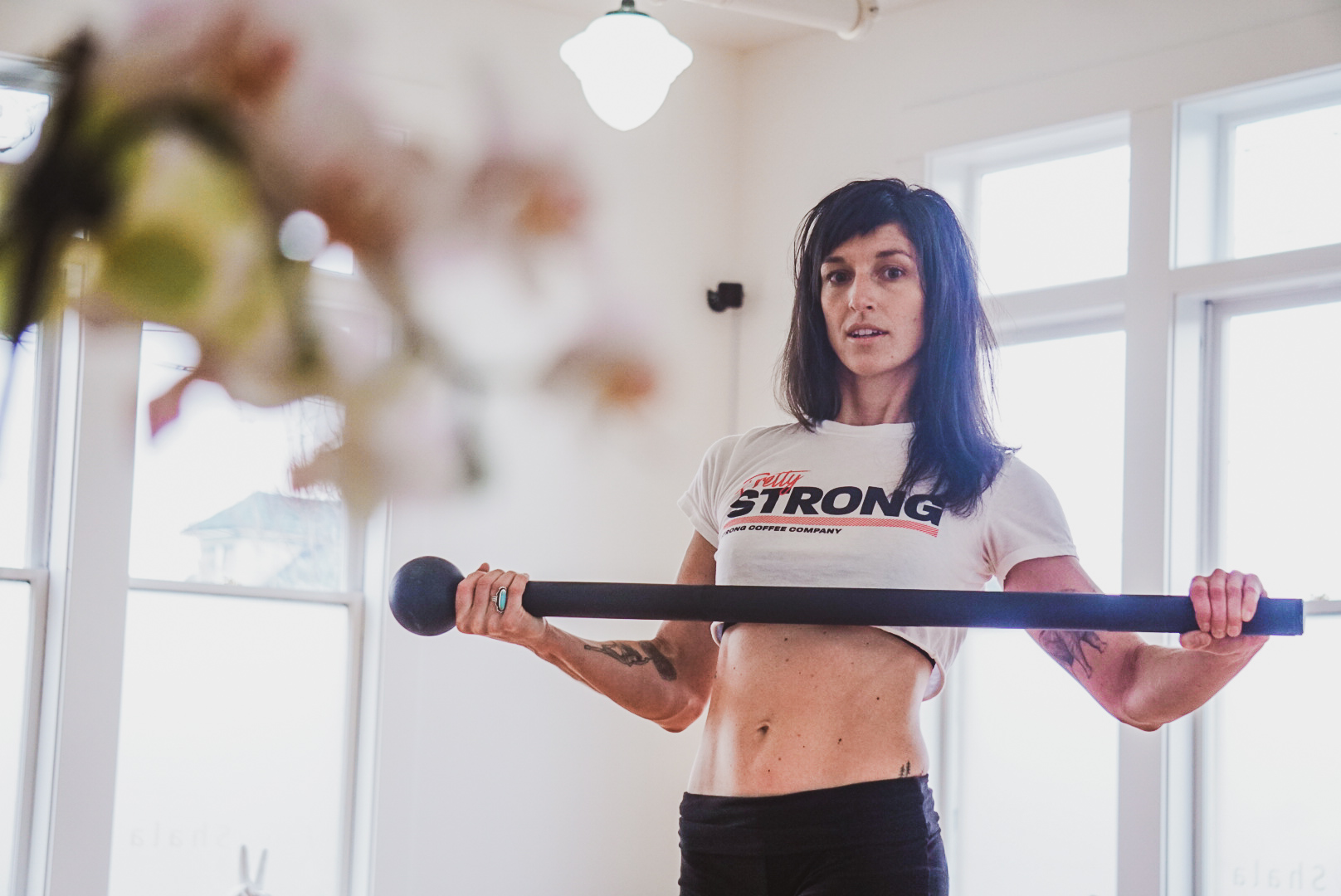 What is inside the Steel Mace Vinyasa- lvl 2 Fluidity Course?
49 High Def Videos // Multi-Angled shots with:

3 Joint Mobility & Warm up videos
5 Videos Breaking down 360 swings, drop swings & Mills
36 Exercise Tutorials - active coaching cues & demos
6 Conditioning HIIT Circuit Videos - with timed rounds!
6 Weighted & Unweighted Flow Videos
+private Facebook group page moderated by me and my team

+accountability check-ins to make sure you finish the course in 6 weeks
How does the HIIT (High Intensity Interval Training) work?
Each of the 6 workouts Workout is comprised of 4-5 exercises demonstrated with breakdowns, alignment and expert coaching. Once you practice and learn the exercises, there is a bonus video in each workout with the full circuit completed with 2 minutes of work to 30 seconds of rest. We recommend completing the practice round, then 1-2 rounds of the conditioning before moving the the loaded & unloaded flow.
After completing your practice round of exercises, then the 1-2 timed rounds… You are ready to move into the weighted Flow with the Mace, followed immediately by an unloaded Flow. You will unlock the power of maximum power recruitment in that weighted flow, making your final yoga flow feel effortless - almost like you are flying.
Remember, the Steel Mace Vinyasa Conditioning exercises build on complexity, and layer components of mills, drop swings and very dynamic movement, and some may take time and practice to master. Modify when needed, choke up on the mace when needed and you may even want to start with a 5 lb mace at first.
Where do you buy a mace?
www.onnit.com for 7 lb mace and amazon, just search 5lb Mace.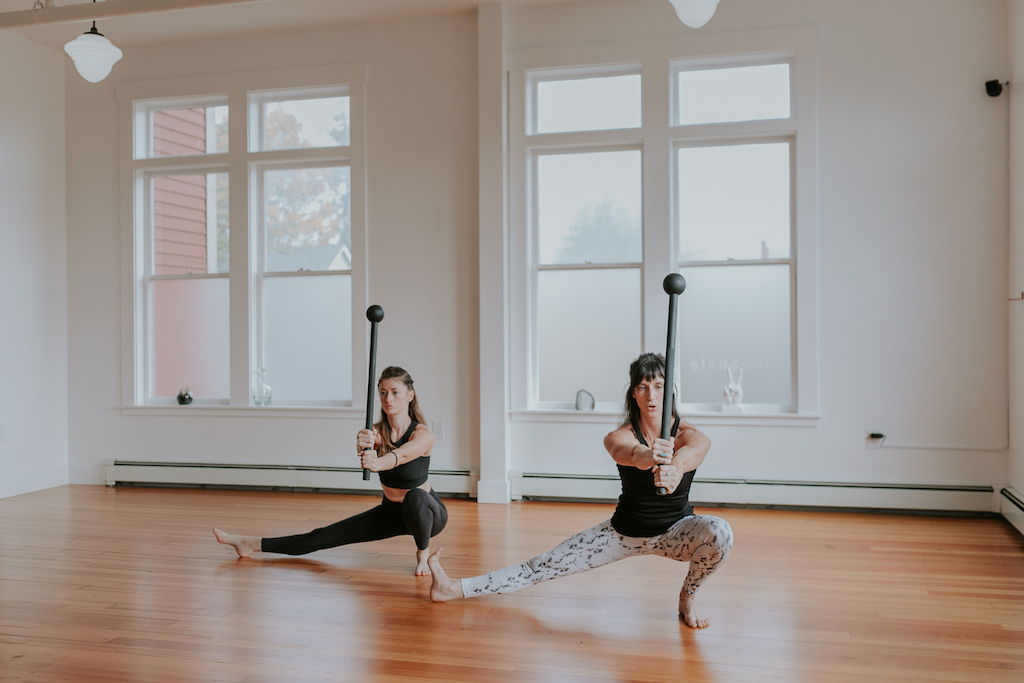 What is the Steel Mace & How does it work?

The Steel Mace is a tool modeled after the ancient gada, used throughout history to strengthen warriors for battle. As modern day warriors, combatting stress, the disease of sitting and occupational adaptations - we need a tool that helps us access our true power as humans. Steel Mace Vinyasa™ is for anyone wanting to access mobility, strength & Flow state in their workouts. You will be challenged, you will grow and you will feel your body & mind shifting with every workout & flow.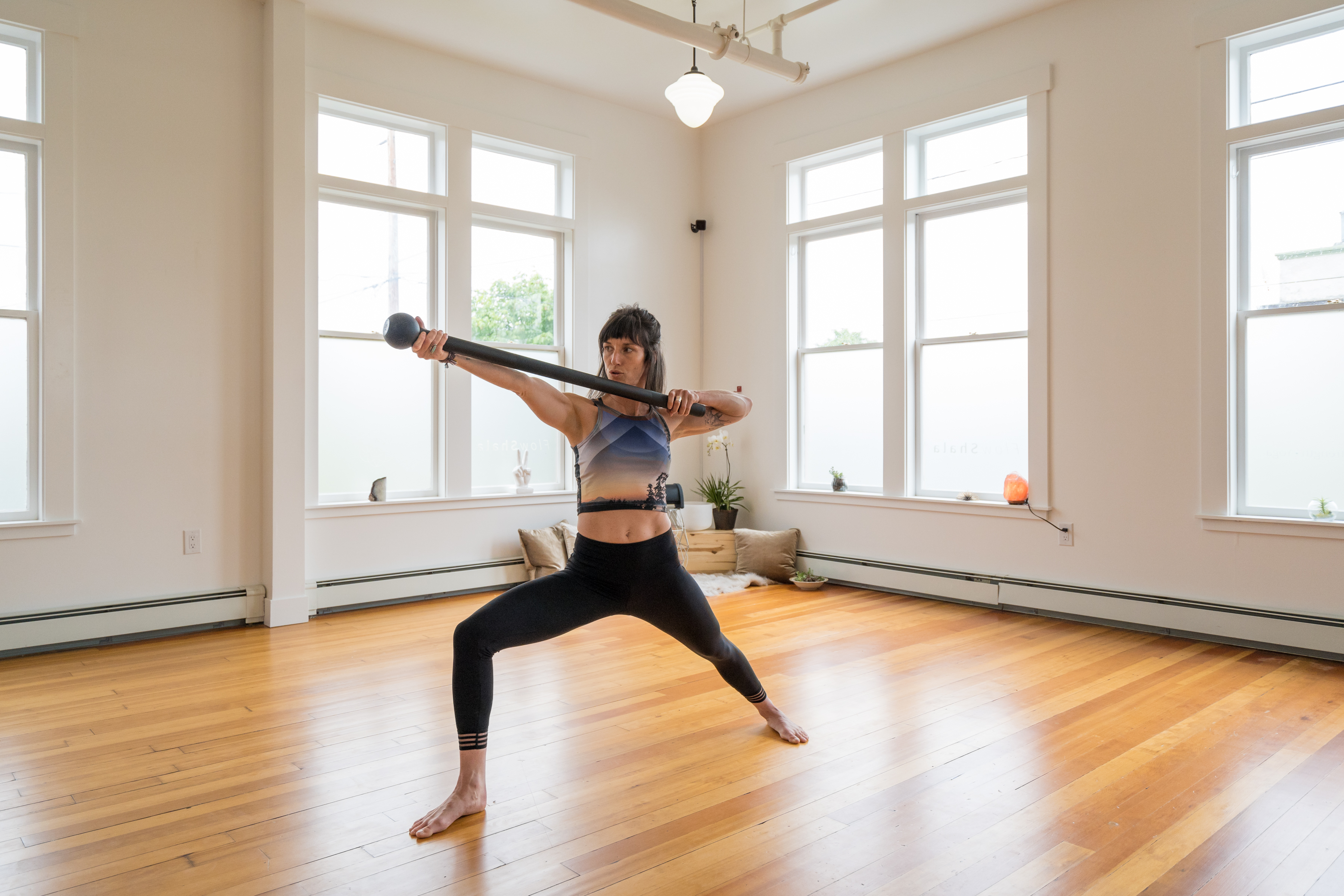 How has Steel Mace Vinyasa affected the person who wants to lose weight and tone up?
Summer owns and operates the Flow Shala in Bellingham, WA and has enrolled over 150 people into her 6 Weeks to Flow challenge. This program requires individuals to be accountable for 3 of her signature HIIT workouts per week, clean eating, mindfulness practices and most importantly understanding how mindset impacts the physical body. If you want drastic changes in your physique, posture, core and more... Here is what her group fitness clients are saying about the first 6 Weeks training with her and her team of coaches: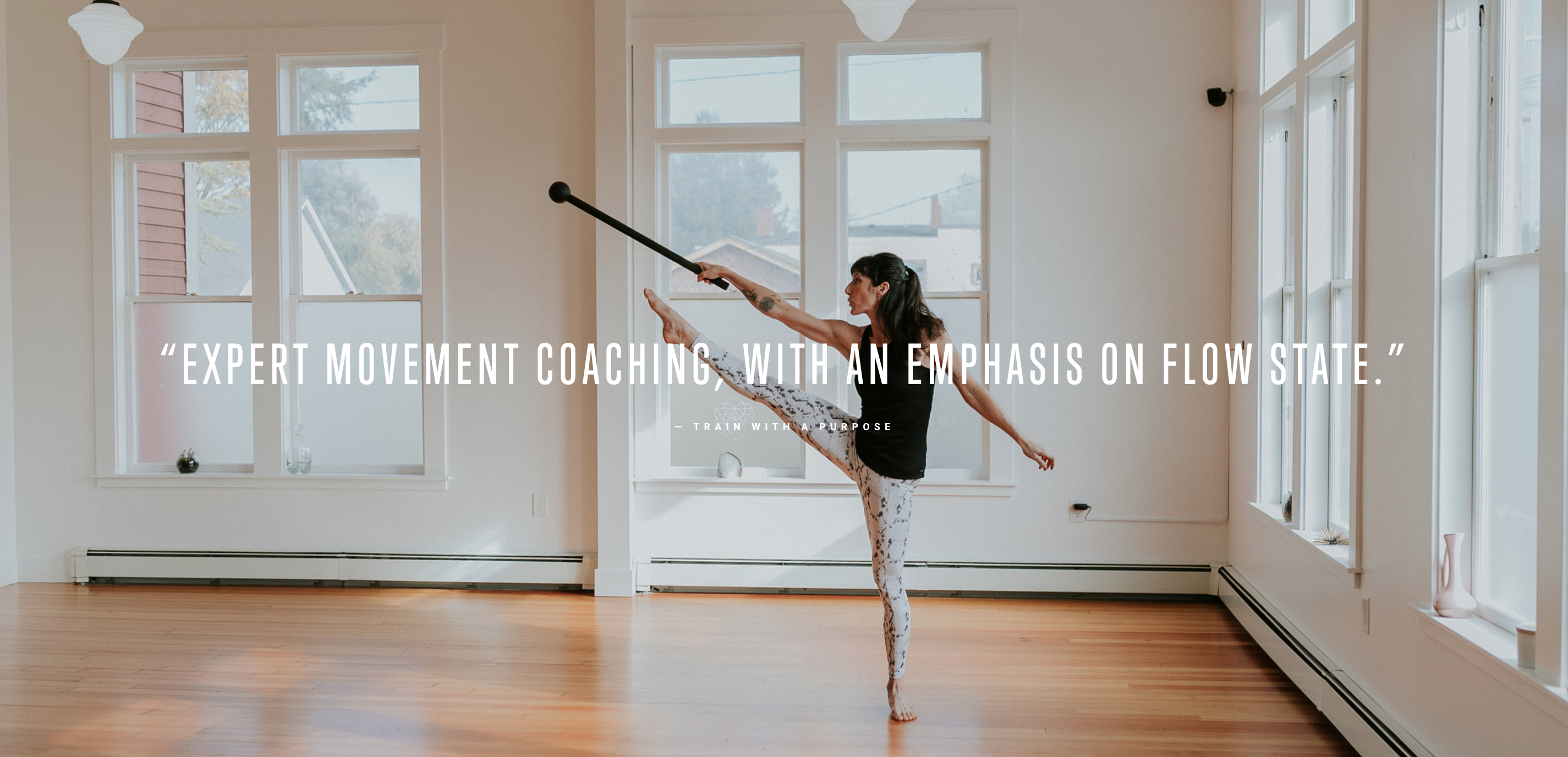 Think this practice is for skilled movers only? Think again.
Summer specializes in helping people transform their body & mind with Steel Mace & HIIT training. HIIT simply means that you are training in your target heart rate zone (moderate = 70-80% of Max HR, high= 80-85% of HR Max) during your 20-30 minute training interval. By training with intervals, integrating precision & breath work, our aim is to help you tap into Flow State while you train. When you are in that very hyper focused state (Flow State), that is when we can regulate hormones, the endocrine system, the heart and lungs adapt to the workload, we detox, and so much more. Clients are raving about Summer's workouts at Flow Shala, and you can get it for a fraction of the price in your own living room.
Flow Shala clients share how regular practice + Summer's 6 Weeks to Flow course has impacted them - check her reviews out on google business. Over 35 reviews with 5 stars.


How long has loaded yoga been around? Who knows about it?
Summer founded a comprehensive system integrating strength & conditioning with Yoga in 2011, and spent the last 6 years teaching level 1 & 2 seminars globally. As a coach of coaches, her goal is to give instructors a blue print to integrate load into the movement practice both safely and efficiently. Steel Mace Vinyasa is a culmination of all of her academic education, experience and advanced Yoga Teacher training into an easy to follow progression that will take anyone's athleticism to the next level. You will broaden your tool box, grow your practice and learn to move better. Plain and simple.
Is Steel Mace Vinyasa the next trend in fitness & Yoga?
Summer recently contributed an article to a print magazine called Yoga World. Check it out below.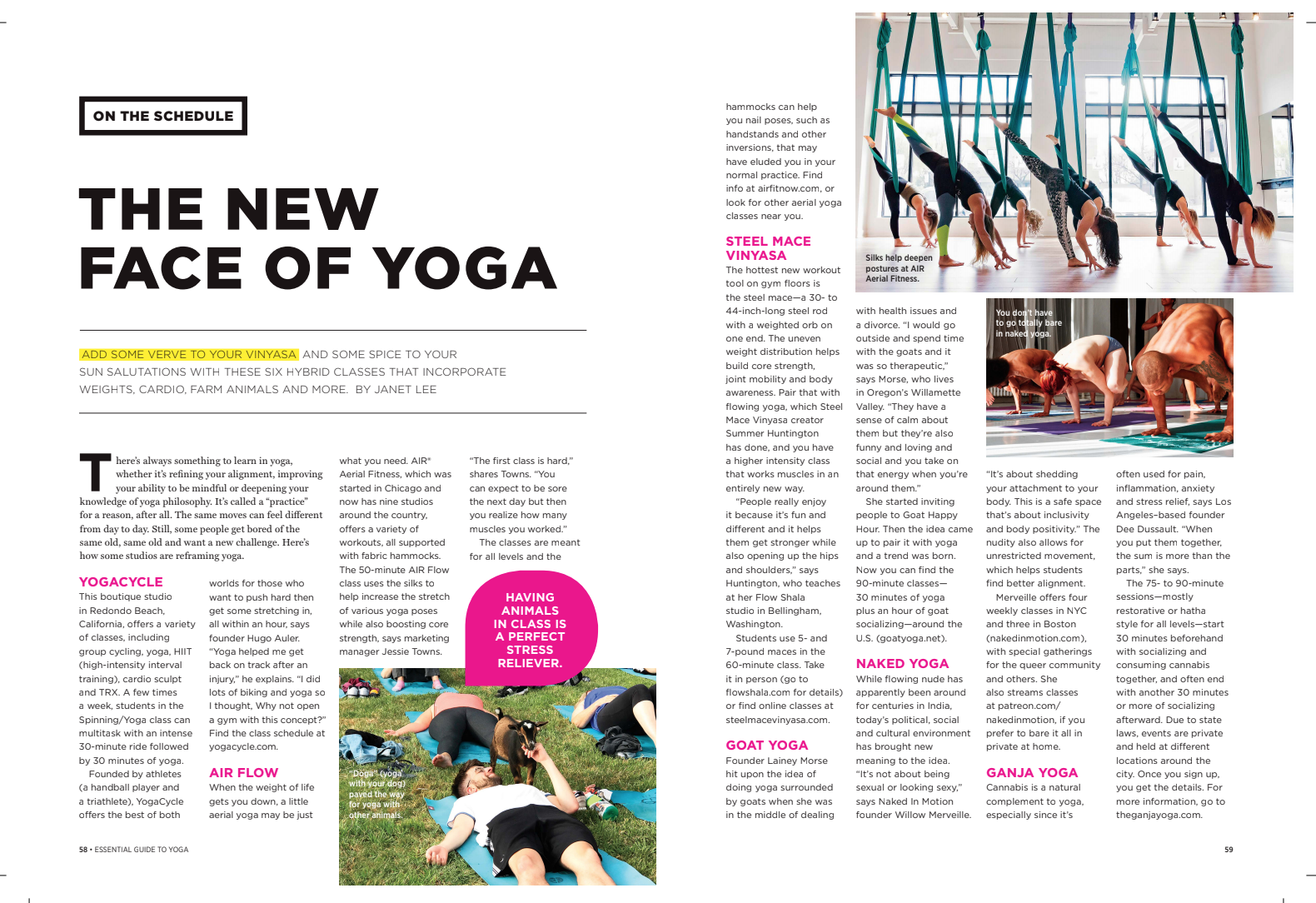 What if I don't do yoga? Is this program still good for me?
Yoga simply means union. It is not about the pose, it is about unifying body, mind and breath. Training with a steel mace will accelerate your understanding of the biomechanics involved in yoga based movement patterns, enhance your breath control and help you speed up the conditioning & mobility adaptation in your nervous system.
Steel Mace Vinyasa™ is about creating strength, stability & grace in all planes so that you can get the most out of your training. Take the Warrior poses for example, these poses help open the hips so that we can access full range of motion, and thus develop more power, because we have more range available. With more power comes more control of our movement patterns. When you train the Steel Mace Vinyasa™ workouts and Flows, you'll connect with your inner warrior and truly embody Flow.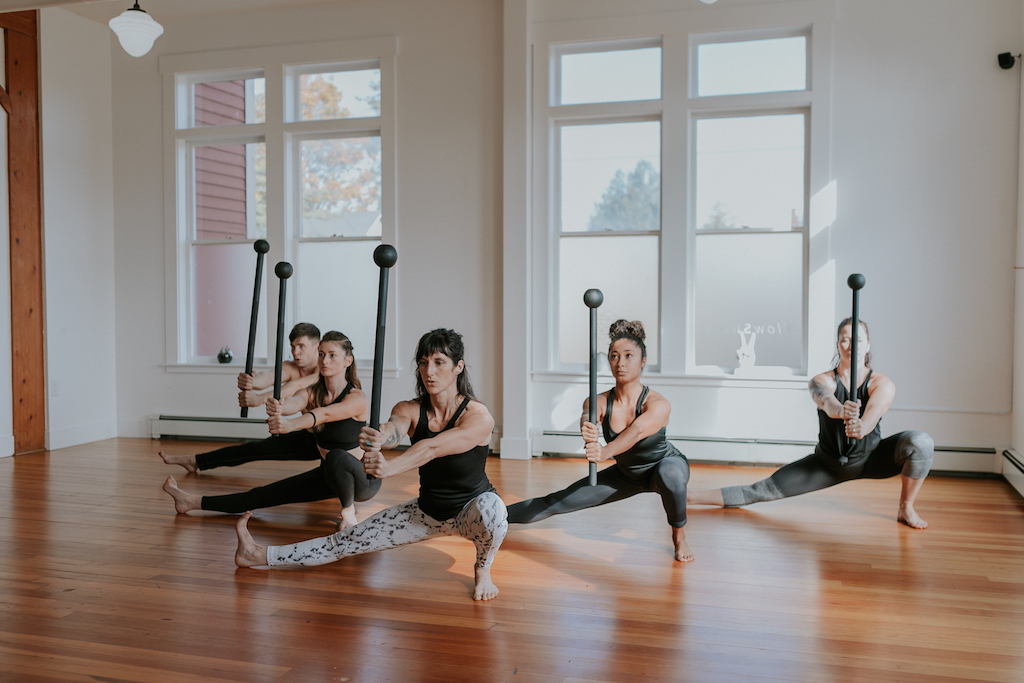 How does Steel Mace Vinyasa™ work?

Follow the program step by step, mastering the videos and workouts in order and you will be guided to conditioning first then flow.
Steel Mace Vinyasa exercises are demonstrated and practiced first in individual video tutorials, then conditioned with a tabata style timer. Using the 2 minutes of work 30 seconds of rest timing protocol allows our nervous system to create a solid road map of where to apply torque in shoulder girdle with the mace, activation in the deep inner core, and stability in our deep hip rotators. Steel Mace Vinyasa™ literally trains the trifecta of your shoulders, core and glutes in every single exercise & weighted flow. This drastically increases performance for any-BODY, especially people with minimal yoga experience.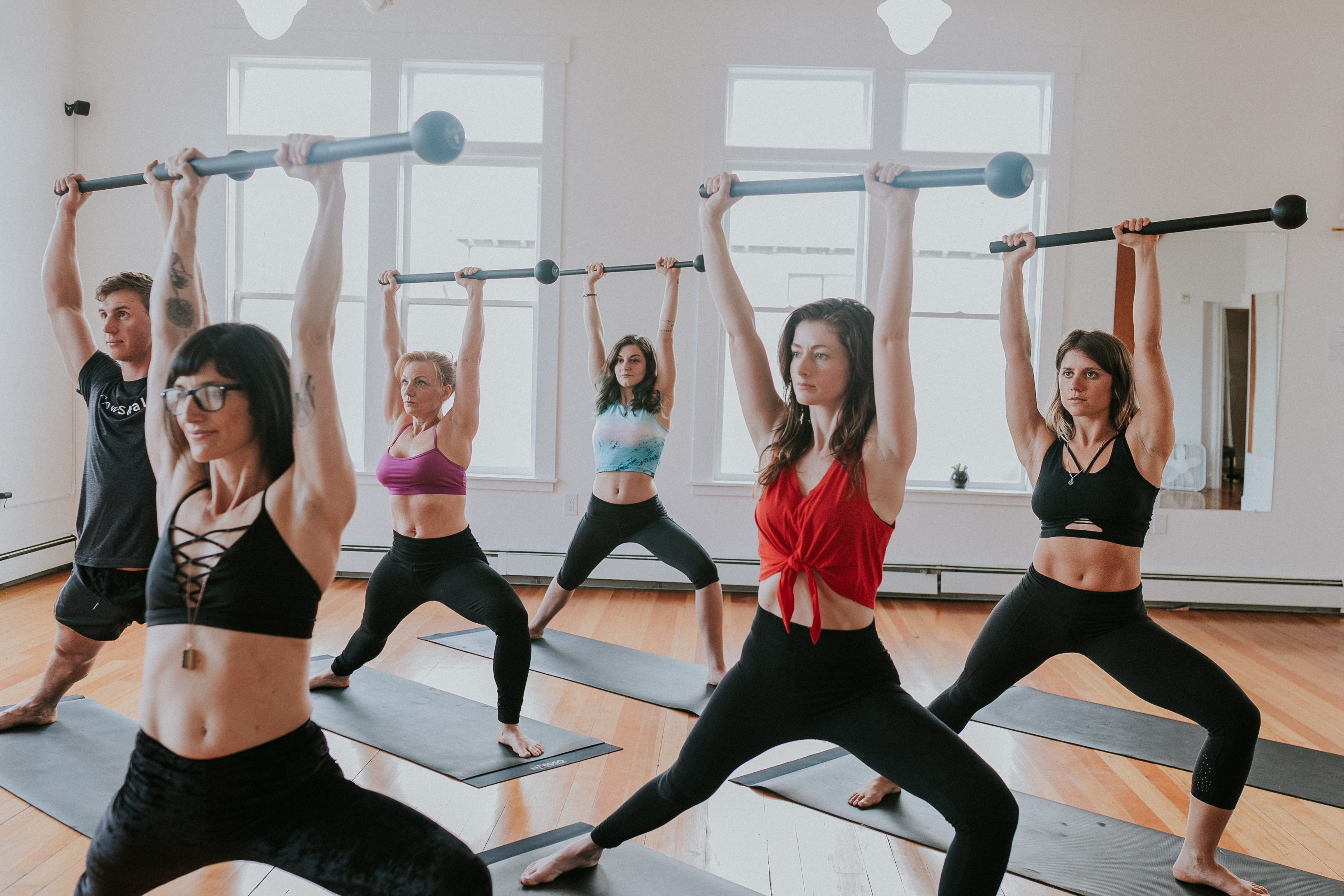 This looks way too advanced, I can't possibly do this?
To grow, evolve and elevate in our understanding of body & mind connection, it is important to understand where we leak power. The Steel Mace Vinyasa™ practice will help you identify your own power leakages, dead zones, mobility impairments and fear reactivity in a very safe way. Once you create awareness about where you are 'weaker' or lacking activation, only then can you start to restore mobility & Flow.
In the last 7 years of teaching my seminars globally, I've heard it all.
You may be thinking…
I'm not flexible enough for this
It looks way too hard
I could never do that
I have too many injuries to try it
I am too overweight
I don't like not being good at things
Yoga is not for me
These are all self limiting beliefs that are preventing us from tapping into our full potential in our movement. When we learn to master both our minds AND our movement, only then can we start to truly embody Flow. It will take time, dedication and practice… but remember there is always progress in our practice if we are patient.
What will I experience with training Steel Mace Vinyasa?

This powerful practice will create big shifts in your physique, athleticism, mobility and so much more. With regular practice, integrated into the 4 Day Flow of no intensity, low intensity, moderate and high intensity focused training days, you'll get:
Increased strength & endurance
Greater proprioceptive awareness
Improved yoga practice & flow
Fun and challenging workouts
Access to flow state while training
Progressive skill building
Better posture and confidence
Warrior mindset training that carries over into life
Toolbox of steel mace movements to enhance your expression
If you are ready to step into Flow with us, pick up one of the first 100 copies of this course If you want to get accountability, expert coaching, community, support and full video access to a ground breaking movement training system… Don't miss this very limited offer.
You are pure potential.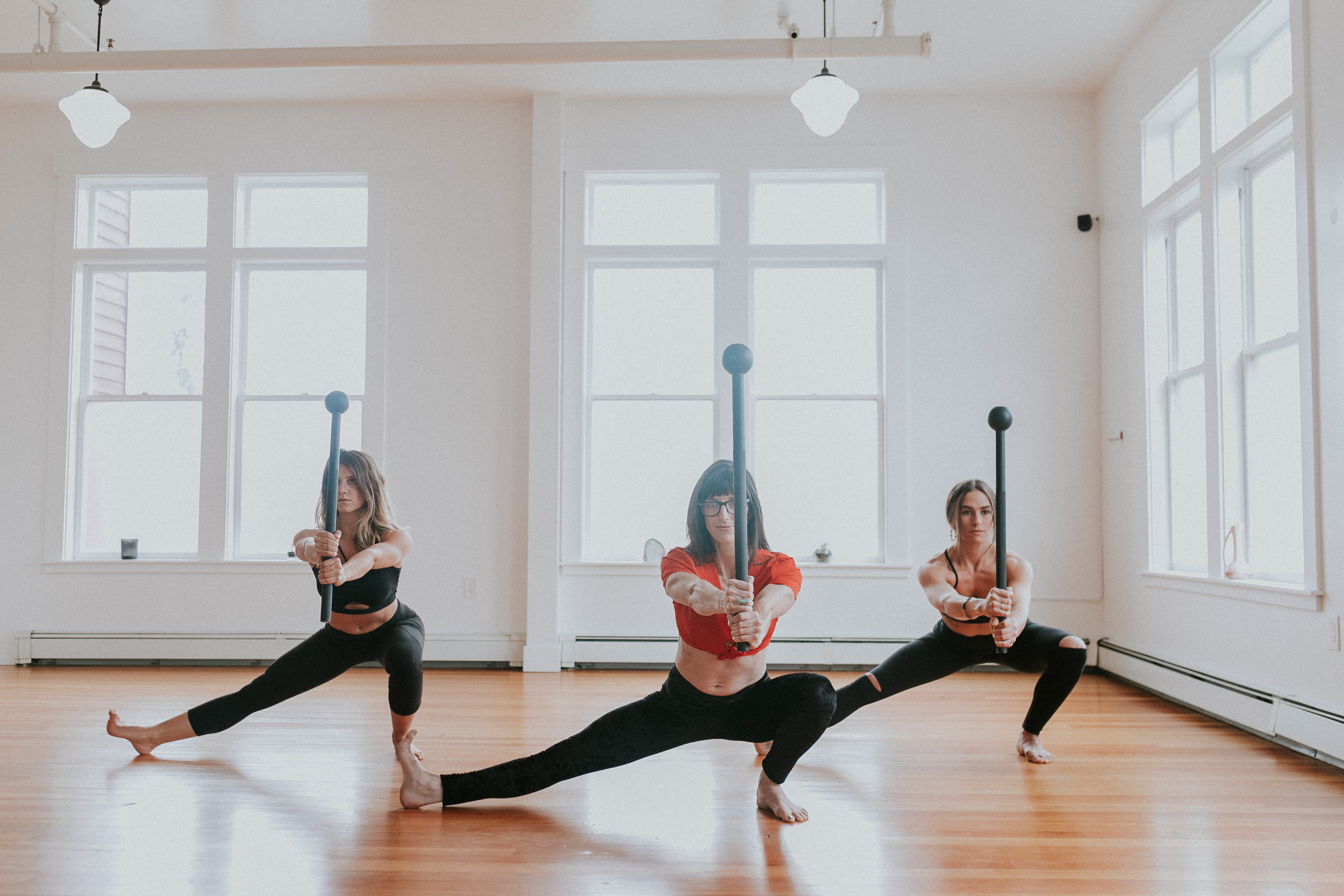 I look forward to our journey together toward Flow State. I hope to meet you in person, and please don't hesitate to visit our studio in Bellingham, WA called Flow Shala. Seminars and workshops are all posted at www.steelmacevinyasa.com // Next Certification options below
UPCOMING EVENTS/WORKSHOPS
AUGUST 22-25, 2019 // LVL 1 & 2 Seminar & Retreat -ORCAS ISLAND, WA
OCTOBER 11-13, 2019 //LVL 1 Seminar -BELLINGHAM, WA
Your Instructor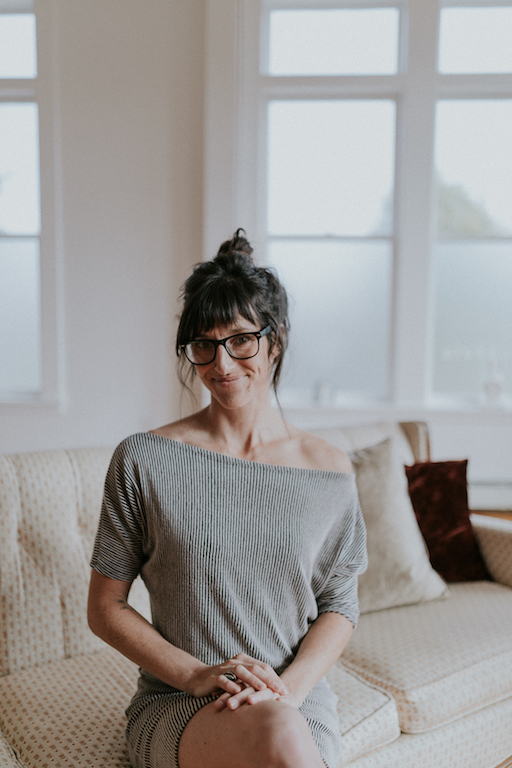 Summer Huntington holds a Masters in Kinesiology, an advanced 500 Hour Yoga Teacher training and has over 20,000 hours of movement coaching experience. She founded a comprehensive strength & yoga curriculum in 2011, and has taught her seminars globally. Summer is an expert in both Flow psychological applications as well as training applications, and specializes in mobility education. Her thesis examined Worksite Wellness interventions, and she continues to consult privately for Corporate Wellness clients, as well as in her signature Flow State of Mind Coaching. She owns and operates two local fitness studios, an online studio and a leads a team of wellness professionals, all in Flow.
Course Curriculum
Warm Up
Available in days
days after you enroll
Swings
Available in days
days after you enroll
Frequently Asked Questions
When does the course start and finish?
The course starts now and never ends! It is a completely self-paced online course - you decide when you start and when you finish.
How long do I have access to the course?
How does lifetime access sound? After enrolling, you have unlimited access to this course for as long as you like - across any and all devices you own.
What if I am unhappy with the course?
We would never want you to be unhappy! If you are unsatisfied with your purchase, contact us in the first 30 days and we will give you a full refund.